COLORS 3mm

INSTALLATION NOTE:
When installing multiple panels side by side, make sure the arrows all point in the same direction. Failure to do so may cause shading to occur.
Available Panel Sizes:
4ft x 8ft
4ft x 10ft
5ft x 10ft
Weight:
3mm 4ft x 8ft, 30.5 lbs
3mm 4ft x 10ft, 38 lbs
3mm 5ft x 10ft, 47.5 lbs
Attributes:


Aluminum skin thickness .30 mm
Available in 3mm
Quality Aluminum Composite Sign Panel
Highest Performing Panel in Signabond Series
Solid Polyethylene Core
Paint: PPG Trueform polyester coil coated panels
UL Recognized and Approved
NCHRP350 Highway road sign approved
Simply wipe off to begin use
Ideal paint finish for best results
Impervious to most harsh chemicals
Easy to cut, route, and bend with everyday tools
Ready to accept paint, screen printing, or UV flatbed inks
Available in Black and White. Special colors available upon request
5 Year Limited Warranty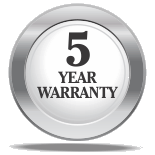 Our Strongest, Most Rigid Aluminum Composite Material
Signabond V.3 is our strongest, most rigid ACM panel. It sports a slightly thicker Aluminum skin, .30mm, than Signabond Lite or Signabond Valu-Lite and exhibits these outstanding qualities: strong, rigid, extremely durable, resists corrosion (anti-corrosion and primer treatments to both aluminum sheets), impervious to water and most chemicals, excellent ultraviolet (UV) ray protection, withstands extreme outdoor conditions, its light weight makes installations easier, easily cut, fabricated and mounted using everyday tools, no pre-treatment necessary for paint or graphics, surface resists scratching, easily cleaned, long life span, and affordable. Signabond V.3 is available in 3mm panels.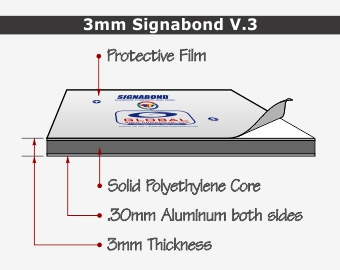 Signabond Routing and Bending Guide.pdf
Technical Data, Specifications, Installation and Processing Guide.pdf